A project model for the FreeBSD Project
trademarks

FreeBSD is a registered trademark of the FreeBSD Foundation.

IBM, AIX, OS/2, PowerPC, PS/2, S/390, and ThinkPad are trademarks of International Business Machines Corporation in the United States, other countries, or both.

IEEE, POSIX, and 802 are registered trademarks of Institute of Electrical and Electronics Engineers, Inc. in the United States.

Adobe, Acrobat, Acrobat Reader, Flash and PostScript are either registered trademarks or trademarks of Adobe Systems Incorporated in the United States and/or other countries.

Intel, Celeron, Centrino, Core, EtherExpress, i386, i486, Itanium, Pentium, and Xeon are trademarks or registered trademarks of Intel Corporation or its subsidiaries in the United States and other countries.

Linux is a registered trademark of Linus Torvalds.

Microsoft, IntelliMouse, MS-DOS, Outlook, Windows, Windows Media and Windows NT are either registered trademarks or trademarks of Microsoft Corporation in the United States and/or other countries.

Motif, OSF/1, and UNIX are registered trademarks and IT DialTone and The Open Group are trademarks of The Open Group in the United States and other countries.

Sun, Sun Microsystems, Java, Java Virtual Machine, JDK, JRE, JSP, JVM, Netra, OpenJDK, Solaris, StarOffice, SunOS and VirtualBox are trademarks or registered trademarks of Sun Microsystems, Inc. in the United States and other countries.

NetBSD is a registered trademark of the NetBSD Foundation.

Many of the designations used by manufacturers and sellers to distinguish their products are claimed as trademarks. Where those designations appear in this document, and the FreeBSD Project was aware of the trademark claim, the designations have been followed by the "™" or the "®" symbol.
Table of Contents
---
Up until now, the FreeBSD project has released a number of described techniques to do different parts of work. However, a project model summarising how the project is structured is needed because of the increasing amount of project members. [1] This paper will provide such a project model and is donated to the FreeBSD Documentation project where it can evolve together with the project so that it can at any point in time reflect the way the project works. It is based on [Saers,2003].
I would like to thank the following people for taking the time to explain things that were unclear to me and for proofreading the document.
1. Overview
A project model is a means to reduce the communications overhead in a project. As shown by [Brooks, 1995], increasing the number of project participants increases the communication in the project exponentionally. FreeBSD has during the past few years increased both its mass of active users and committers, and the communication in the project has risen accordingly. This project model will serve to reduce this overhead by providing an up-to-date description of the project.
During the Core elections in 2002, Mark Murray stated "I am opposed to a long rule-book, as that satisfies lawyer-tendencies, and is counter to the technocentricity that the project so badly needs." [FreeBSD, 2002B]. This project model is not meant to be a tool to justify creating impositions for developers, but as a tool to facilitate coordination. It is meant as a description of the project, with an overview of how the different processes are executed. It is an introduction to how the FreeBSD project works.
The FreeBSD project model will be described as of July 1st, 2004. It is based on the Niels Jørgensen's paper [Jørgensen, 2001], FreeBSD's official documents, discussions on FreeBSD mailing lists and interviews with developers.
After providing definitions of terms used, this document will outline the organisational structure (including role descriptions and communication lines), discuss the methodology model and after presenting the tools used for process control, it will present the defined processes. Finally it will outline major sub-projects of the FreeBSD project.
[FreeBSD, 2002A] Section 1.2 and 1.3 give the vision and the architectural guidelines for the project. The vision is "To produce the best UNIX-like operating system package possible, with due respect to the original software tools ideology as well as usability, performance and stability." The architectural guidelines help determine whether a problem that someone wants to be solved is within the scope of the project
2. Definitions
2.1. Activity
An "activity" is an element of work performed during the course of a project [PMI, 2000]. It has an output and leads towards an outcome. Such an output can either be an input to another activity or a part of the process' delivery.
2.2. Process
A "process" is a series of activities that lead towards a particular outcome. A process can consist of one or more sub-processes. An example of a process is software design.
2.3. Hat
A "hat" is synonymous with role. A hat has certain responsibilities in a process and for the process outcome. The hat executes activities. It is well defined what issues the hat should be contacted about by the project members and people outside the project.
2.4. Outcome
An "outcome" is the final output of the process. This is synonymous with deliverable, that is defined as "any measurable, tangible, verifiable outcome, result or item that must be produced to complete a project or part of a project. Often used more narrowly in reference to an external deliverable, which is a deliverable that is subject to approval by the project sponsor or customer" by [PMI, 2000]. Examples of outcomes are a piece of software, a decision made or a report written.
2.5. FreeBSD
When saying "FreeBSD" we will mean the BSD derivative UNIX-like operating system FreeBSD, whereas when saying "the FreeBSD Project" we will mean the project organisation.
3. Organisational structure
While no-one takes ownership of FreeBSD, the FreeBSD organisation is divided into core, committers and contributors and is part of the FreeBSD community that lives around it.
The FreeBSD Project's structure (in order of descending authority)
| Group | Number of people |
| --- | --- |
| Core members | 9 |
| Committers | 269 |
| Contributors | ~3000 |
Number of committers has been determined by going through CVS logs from January 1st, 2004 to December 31st, 2004 and contributors by going through the list of contributions and problem reports.
The main resource in the FreeBSD community is its developers: the committers and contributors. It is with their contributions that the project can move forward. Regular developers are referred to as contributors. As of January 1st, 2003, there are an estimated 5500 contributors on the project.
Committers are developers with the privilege of being able to commit changes. These are usually the most active developers who are willing to spend their time not only integrating their own code but integrating code submitted by the developers who do not have this privilege. They are also the developers who elect the core team, and they have access to closed discussions.
The project can be grouped into four distinct separate parts, and most developers will focus their involvement in one part of FreeBSD. The four parts are kernel development, userland development, ports and documentation. When referring to the base system, both kernel and userland is meant.
This split changes our table to look like this:
The FreeBSD Project's structure with committers in categories
| Group | Category | Number of people |
| --- | --- | --- |
| Core members | | 9 |
| Committers | Kernel | 56 |
| | Userland | 50 |
| | Docs | 9 |
| | Ports | 120 |
| | Total | 269 |
| Contributors | | ~3000 |
Number of committers per area has been determined by going through CVS logs from January 1st, 2004 to December 31st, 2004. Note that many committers work in multiple areas, making the total number higher than the real number of committers. The total number of committers at that time was 269.
Committers fall into three groups: committers who are only concerned with one area of the project (for instance file systems), committers who are involved only with one sub-project, and committers who commit to different parts of the code, including sub-projects. Because some committers work on different parts, the total number in the committers section of the table is higher than in the above table.
The kernel is the main building block of FreeBSD. While the userland applications are protected against faults in other userland applications, the entire system is vulnerable to errors in the kernel. This, combined with the vast amount of dependencies in the kernel and that it is not easy to see all the consequences of a kernel change, demands developers with a relative full understanding of the kernel. Multiple development efforts in the kernel also require a closer coordination than userland applications do.
The core utilities, known as userland, provide the interface that identifies FreeBSD, both user interface, shared libraries and external interfaces to connecting clients. Currently, 162 people are involved in userland development and maintenance, many being maintainers for their own part of the code. Maintainership will be discussed in the Maintainership section.
Documentation is handled by The FreeBSD Documentation Project and includes all documents surrounding the FreeBSD project, including the web pages. There were during 2004 101 people making commits to the FreeBSD Documentation Project.
Ports is the collection of meta-data that is needed to make software packages build correctly on FreeBSD. An example of a port is the port for the web-browser Mozilla. It contains information about where to fetch the source, what patches to apply and how, and how the package should be installed on the system. This allows automated tools to fetch, build and install the package. As of this writing, there are more than 12600 ports available. [2] , ranging from web servers to games, programming languages and most of the application types that are in use on modern computers. Ports will be discussed further in the section The Ports Subproject.
4. Methodology model
4.1. Development model
There is no defined model for how people write code in FreeBSD. However, Niels Jørgenssen has suggested a model of how written code is integrated into the project.
Jørgenssen's model for change integration
| Stage | Next if successful | Next if unsuccessful |
| --- | --- | --- |
| code | review | |
| review | pre-commit test | code |
| pre-commit test | development release | code |
| development release | parallel debugging | code |
| parallel debugging | production release | code |
| production release | | code |
The "development release" is the FreeBSD-CURRENT ("-CURRENT") branch and the "production release" is the FreeBSD-STABLE branch ("-STABLE") [Jørgensen, 2001].
This is a model for one change, and shows that after coding, developers seek community review and try integrating it with their own systems. After integrating the change into the development release, called FreeBSD-CURRENT, it is tested by many users and developers in the FreeBSD community. After it has gone through enough testing, it is merged into the production release, called FreeBSD-STABLE. Unless each stage is finished successfully, the developer needs to go back and make modifications in the code and restart the process. To integrate a change with either -CURRENT or -STABLE is called making a commit.
Jørgensen found that most FreeBSD developers work individually, meaning that this model is used in parallel by many developers on the different ongoing development efforts. A developer can also be working on multiple changes, so that while they are waiting for review or people to test one or more of their changes, they may be writing another change.
As each commit represents an increment, this is a massively incremental model. The commits are in fact so frequent that during one year [3] , 85427 commits were made, making a daily average of 233 commits.
Within the "code" bracket in Jørgensen's model, each programmer has their own working style and follows their own development models. The bracket could very well have been called "development" as it includes requirements gathering and analysis, system and detailed design, implementation and verification. However, the only output from these stages is the source code or system documentation.
From a stepwise model's perspective (such as the waterfall model), the other brackets can be seen as further verification and system integration. This system integration is also important to see if a change is accepted by the community. Up until the code is committed, the developer is free to choose how much to communicate about it to the rest of the project. In order for -CURRENT to work as a buffer (so that bright ideas that had some undiscovered drawbacks can be backed out) the minimum time a commit should be in -CURRENT before merging it to -STABLE is 3 days. Such a merge is referred to as an MFC (Merge From Current).
It is important to notice the word "change". Most commits do not contain radical new features, but are maintenance updates.
The only exceptions from this model are security fixes and changes to features that are deprecated in the -CURRENT branch. In these cases, changes can be committed directly to the -STABLE branch.
In addition to many people working on the project, there are many related projects to the FreeBSD Project. These are either projects developing brand new features, sub-projects or projects whose outcome is incorporated into FreeBSD [4]. These projects fit into the FreeBSD Project just like regular development efforts: they produce code that is integrated with the FreeBSD Project. However, some of them (like Ports and Documentation) have the privilege of being applicable to both branches or commit directly to both -CURRENT and -STABLE.
There is no standards to how design should be done, nor is design collected in a centralised repository. The main design is that of 4.4BSD. [5] As design is a part of the "Code" bracket in Jørgenssen's model, it is up to every developer or sub-project how this should be done. Even if the design should be stored in a central repository, the output from the design stages would be of limited use as the differences of methodologies would make them poorly if at all interoperable. For the overall design of the project, the project relies on the sub-projects to negotiate fit interfaces between each other rather than to dictate interfacing.
4.2. Release branches
The releases of FreeBSD are best illustrated by a tree with many branches where each major branch represents a major version. Minor versions are represented by branches of the major branches.
In the following release tree, arrows that follow one-another in a particular direction represent a branch. Boxes with full lines and diamonds represent official releases. Boxes with dotted lines represent the development branch at that time. Security branches are represented by ovals. Diamonds differ from boxes in that they represent a fork, meaning a place where a branch splits into two branches where one of the branches becomes a sub-branch. For example, at 4.0-RELEASE the 4.0-CURRENT branch split into 4-STABLE and 5.0-CURRENT. At 4.5-RELEASE, the branch forked off a security branch called RELENG_4_5.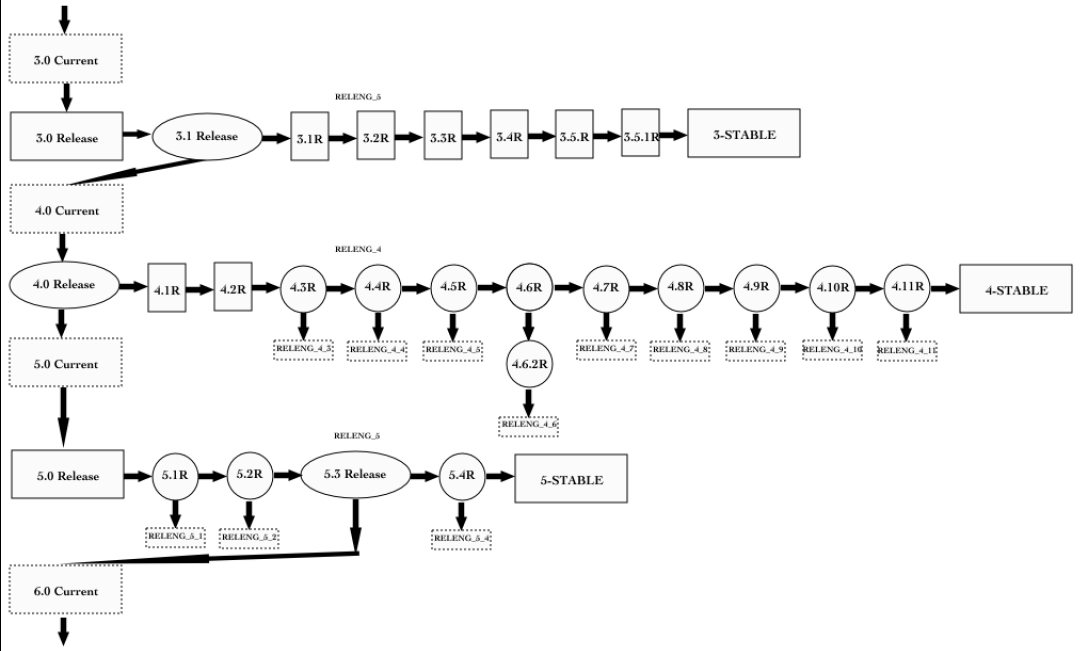 Figure 1. The FreeBSD release tree
| Major release | Forked from | Following minor releases |
| --- | --- | --- |
| …​ | | |
| 3.0 Current (development branch) | | Releng 3 branches: 3.0 Release to 3.5 Release, leading to 3.5.1 Release and the subsequent 3 Stable branch |
| 4.0 Current (development branch) | 3.1 Release | Releng 4 branches: 4.1 Release to 4.6 Release (and 4.6.2 Release), then 4.7 Release to 4.11 Release (all starting at 4.3 Release also leading to a Releng_4_n branch), and the subsequent 4 Release branch |
| 5.0 Current (development branch) | 4.0 Release | Releng 5 branches: 5.0 Release to 5.4 Release (all except 5.0 and 5.3 also leading to a Releng_5_n branch), and the subsequent 5 Release branch |
| 6.0 Current (development branch) | 5.3 Release | |
| …​ | | |
The latest -CURRENT version is always referred to as -CURRENT, while the latest -STABLE release is always referred to as -STABLE. In this figure, -STABLE refers to 4-STABLE while -CURRENT refers to 5.0-CURRENT following 5.0-RELEASE. [FreeBSD, 2002E]
A "major release" is always made from the -CURRENT branch. However, the -CURRENT branch does not need to fork at that point in time, but can focus on stabilising. An example of this is that following 3.0-RELEASE, 3.1-RELEASE was also a continuation of the -CURRENT-branch, and -CURRENT did not become a true development branch until this version was released and the 3-STABLE branch was forked. When -CURRENT returns to becoming a development branch, it can only be followed by a major release. 5-STABLE is predicted to be forked off 5.0-CURRENT at around 5.3-RELEASE. It is not until 5-STABLE is forked that the development branch will be branded 6.0-CURRENT.
A "minor release" is made from the -CURRENT branch following a major release, or from the -STABLE branch.
Following and including, 4.3-RELEASE[6], when a minor release has been made, it becomes a "security branch". This is meant for organisations that do not want to follow the -STABLE branch and the potential new/changed features it offers, but instead require an absolutely stable environment, only updating to implement security updates. [7]
Each update to a security branch is called a "patchlevel". For every security enhancement that is done, the patchlevel number is increased, making it easy for people tracking the branch to see what security enhancements they have implemented. In cases where there have been especially serious security flaws, an entire new release can be made from a security branch. An example of this is 4.6.2-RELEASE.
4.3. Model summary
To summarise, the development model of FreeBSD can be seen as the following tree: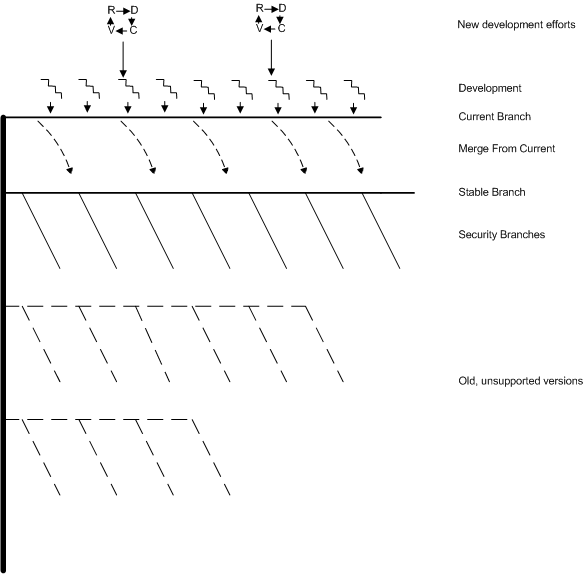 Figure 2. The overall development model
The tree of the FreeBSD development with ongoing development efforts and continuous integration.
The tree symbolises the release versions with major versions spawning new main branches and minor versions being versions of the main branch. The top branch is the -CURRENT branch where all new development is integrated, and the -STABLE branch is the branch directly below it. Below the -STABLE branch are old, unsupported versions.
Clouds of development efforts hang over the project where developers use the development models they see fit. The product of their work is then integrated into -CURRENT where it undergoes parallel debugging and is finally merged from -CURRENT into -STABLE. Security fixes are merged from -STABLE to the security branches.
Many committers have a special area of responsibility. These roles are called hats. These hats can be either project roles, such as public relations officer, or maintainer for a certain area of the code. Because this is a project where people give voluntarily of their spare time, people with assigned hats are not always available. They must therefore appoint a deputy that can perform the hat's role in their absence. The other option is to have the role held by a group.
Many of these hats are not formalised. Formalised hats have a charter stating the exact purpose of the hat along with its privileges and responsibilities. The writing of such charters is a new part of the project, and has thus yet to be completed for all hats. These hat descriptions are not such a formalisation, rather a summary of the role with links to the charter where available and contact addresses.
5. Hats
5.1. General Hats
5.1.1. Contributor
A Contributor contributes to the FreeBSD project either as a developer, as an author, by sending problem reports, or in other ways contributing to the progress of the project. A contributor has no special privileges in the FreeBSD project. [FreeBSD, 2002F]
5.1.2. Committer
A person who has the required privileges to add their code or documentation to the repository. A committer has made a commit within the past 12 months. [FreeBSD, 2000A] An active committer is a committer who has made an average of one commit per month during that time.
It is worth noting that there are no technical barriers to prevent someone, once having gained commit privileges to the main- or a sub-project, to make commits in parts of that project's source the committer did not specifically get permission to modify. However, when wanting to make modifications to parts a committer has not been involved in before, they should read the logs to see what has happened in this area before, and also read the MAINTAINERS file to see if the maintainer of this part has any special requests on how changes in the code should be made.
5.1.3. Core Team
The core team is elected by the committers from the pool of committers and serves as the board of directors of the FreeBSD project. It promotes active contributors to committers, assigns people to well-defined hats, and is the final arbiter of decisions involving which way the project should be heading. As of July 1st, 2004, core consisted of 9 members. Elections are held every two years.
5.1.4. Maintainership
Maintainership means that that person is responsible for what is allowed to go into that area of the code and has the final say should disagreements over the code occur. This involves proactive work aimed at stimulating contributions and reactive work in reviewing commits.
With the FreeBSD source comes the MAINTAINERS file that contains a one-line summary of how each maintainer would like contributions to be made. Having this notice and contact information enables developers to focus on the development effort rather than being stuck in a slow correspondence should the maintainer be unavailable for some time.
If the maintainer is unavailable for an unreasonably long period of time, and other people do a significant amount of work, maintainership may be switched without the maintainer's approval. This is based on the stance that maintainership should be demonstrated, not declared.
Maintainership of a particular piece of code is a hat that is not held as a group.
5.2. Official Hats
The official hats in the FreeBSD Project are hats that are more or less formalised and mainly administrative roles. They have the authority and responsibility for their area. The following list shows the responsibility lines and gives a description of each hat, including who it is held by.
5.2.1. Documentation project manager
The FreeBSD Documentation Project architect is responsible for defining and following up documentation goals for the committers in the Documentation project, which they supervise.
5.2.2. Postmaster
The Postmaster is responsible for mail being correctly delivered to the committers' email address. They are also responsible for ensuring that the mailing lists work and should take measures against possible disruptions of mail such as having troll-, spam- and virus-filters.
5.2.3. Release Coordination
The responsibilities of the Release Engineering Team are
Setting, publishing and following a release schedule for official releases

Documenting and formalising release engineering procedures

Creation and maintenance of code branches

Coordinating with the Ports and Documentation teams to have an updated set of packages and documentation released with the new releases

Coordinating with the Security team so that pending releases are not affected by recently disclosed vulnerabilities.
Further information about the development process is available in the Release engineering section.
5.2.4. Public Relations & Corporate Liaison
The Public Relations & Corporate Liaison's responsibilities are:
Making press statements when happenings that are important to the FreeBSD Project happen.

Being the official contact person for corporations that are working close with the FreeBSD Project.

Take steps to promote FreeBSD within both the Open Source community and the corporate world.

Handle the "freebsd-advocacy" mailing list.
This hat is currently not occupied.
5.2.5. Security Officer
The Security Officer's main responsibility is to coordinate information exchange with others in the security community and in the FreeBSD project. The Security Officer is also responsible for taking action when security problems are reported and promoting proactive development behavior when it comes to security.
Because of the fear that information about vulnerabilities may leak out to people with malicious intent before a patch is available, only the Security Officer, consisting of an officer, a deputy and two Core Team members, receive sensitive information about security issues. However, to create or implement a patch, the Security Officer has the Security Officer Team security-team@FreeBSD.org to help do the work.
5.2.6. Source Repository Manager
The Source Repository Manager is the only one who is allowed to directly modify the repository without using the Subversion (SVN) tool. It is their responsibility to ensure that technical problems that arise in the repository are resolved quickly. The source repository manager has the authority to back out commits if this is necessary to resolve a SVN technical problem.
5.2.7. Election Manager
The Election Manager is responsible for the Core election process. The manager is responsible for running and maintaining the election system, and is the final authority should minor unforeseen events happen in the election process. Major unforeseen events have to be discussed with the Core Team
Hat held only during elections.
5.2.8. Web site Management
The Web site Management hat is responsible for coordinating the rollout of updated web pages on mirrors around the world, for the overall structure of the primary web site and the system it is running upon. The management needs to coordinate the content with The FreeBSD Documentation Project and acts as maintainer for the "www" tree.
5.2.9. Ports Manager
The Ports Manager acts as a liaison between The Ports Subproject and the core project, and all requests from the project should go to the ports manager.
5.2.10. Standards
The Standards hat is responsible for ensuring that FreeBSD complies with the standards it is committed to , keeping up to date on the development of these standards and notifying FreeBSD developers of important changes that allows them to take a proactive role and decrease the time between a standards update and FreeBSD's compliancy.
5.2.11. Core Secretary
The Core Secretary's main responsibility is to write drafts to and publish the final Core Reports. The secretary also keeps the core agenda, thus ensuring that no balls are dropped unresolved.
5.2.12. Bugmeister
The Bugmeister is responsible for ensuring that the maintenance database is in working order, that the entries are correctly categorised and that there are no invalid entries. They supervise bugbusters.
5.2.13. Donations Liaison Officer
The task of the donations liaison officer is to match the developers with needs with people or organisations willing to make a donation.
5.2.14. Admin
(Also called "FreeBSD Cluster Admin")
The admin team consists of the people responsible for administrating the computers that the project relies on for its distributed work and communication to be synchronised. It consists mainly of those people who have physical access to the servers.
5.3. Process dependent hats
5.3.1. Report originator
The person originally responsible for filing a Problem Report.
5.3.2. Bugbuster
A person who will either find the right person to solve the problem, or close the PR if it is a duplicate or otherwise not an interesting one.
5.3.3. Mentor
A mentor is a committer who takes it upon them to introduce a new committer to the project, both in terms of ensuring the new committer's setup is valid, that the new committer knows the available tools required in their work, and that the new committer knows what is expected of them in terms of behavior.
5.3.4. Vendor
The person(s) or organisation whom external code comes from and whom patches are sent to.
5.3.5. Reviewers
People on the mailing list where the request for review is posted.
The following section will describe the defined project processes. Issues that are not handled by these processes happen on an ad-hoc basis based on what has been customary to do in similar cases.
7. Tools
The major support tools for supporting the development process are Bugzilla, Mailman, and OpenSSH. These are externally developed tools and are commonly used in the open source world.
7.1. Subversion (SVN)
Subversion ("SVN") is a system to handle multiple versions of text files and tracking who committed what changes and why. A project lives within a "repository" and different versions are considered different "branches".
7.2. Bugzilla
Bugzilla is a maintenance database consisting of a set of tools to track bugs at a central site. It supports the bug tracking process for sending and handling bugs as well as querying and updating the database and editing bug reports. The project uses its web interface to send "Problem Reports" to the project's central Bugzilla server. The committers also have web and command-line clients.
7.3. Mailman
Mailman is a program that automates the management of mailing lists. The FreeBSD Project uses it to run 16 general lists, 60 technical lists, 4 limited lists and 5 lists with SVN commit logs. It is also used for many mailing lists set up and used by other people and projects in the FreeBSD community. General lists are lists for the general public, technical lists are mainly for the development of specific areas of interest, and closed lists are for internal communication not intended for the general public. The majority of all the communication in the project goes through these 85 lists [FreeBSD, 2003A, Appendix C].
7.4. Pretty Good Privacy
Pretty Good Privacy, better known as PGP, is a cryptosystem using a public key architecture to allow people to digitally sign and/or encrypt information in order to ensure secure communication between two parties. A signature is used when sending information out to many recipients, enabling them to verify that the information has not been tampered with before they received it. In the FreeBSD Project this is the primary means of ensuring that information has been written by the person who claims to have written it, and not altered in transit.
7.5. Secure Shell
Secure Shell is a standard for securely logging into a remote system and for executing commands on the remote system. It allows other connections, called tunnels, to be established and protected between the two involved systems. This standard exists in two primary versions, and only version two is used for the FreeBSD Project. The most common implementation of the standard is OpenSSH that is a part of the project's main distribution. Since its source is updated more often than FreeBSD releases, the latest version is also available in the ports tree.
8. Sub-projects
Sub-projects are formed to reduce the amount of communication needed to coordinate the group of developers. When a problem area is sufficiently isolated, most communication would be within the group focusing on the problem, requiring less communication with the groups they communicate with than were the group not isolated.
8.1. The Ports Subproject
A "port" is a set of meta-data and patches that are needed to fetch, compile and install correctly an external piece of software on a FreeBSD system. The amount of ports has grown at a tremendous rate, as shown by the following figure.
[fig-ports] shows the number of ports available to FreeBSD in the period 1995 to 2008. It looks like the curve has first grown exponentially, and then from the middle of 2001 to the middle of 2007 grown linearly at a rate of about 2000 ports/year, before its growth rate gets lower.
Approximate dates each multiple of 1000 ports is reached
| Number of ports | Approximate date |
| --- | --- |
| 1000 | Late 1997 |
| 2000 | Late 1998 |
| 3000 | Early 2000 |
| 4000 | Late 2000 |
| 5000 | Mid 2001 |
| 6000 | 4th quarter of 2001 |
| 7000 | Mid 2002 |
| 8000 | 4th quarter of 2002 |
| 9000 | Mid 2003 |
| 10000 | End of 2003 |
| 11000 | Mid 2004 |
| 12000 | End of 2004 |
| 13000 | Mid 2005 |
| 14000 | Early 2006 |
| 15000 | Mid 2006 |
| 16000 | 3rd quarter 2006 |
| 17000 | 2nd quarter 2007 |
Approximate number of ports at the start of each year
| Year | Approximate number of ports |
| --- | --- |
| 1995 | 100 |
| 1996 | 300 |
| 1997 | 700 |
| 1998 | 1200 |
| 1999 | 2000 |
| 2000 | 2900 |
| 2001 | 4300 |
| 2002 | 6200 |
| 2003 | 8100 |
| 2004 | 10050 |
| 2005 | 12100 |
| 2006 | 14000 |
| 2007 | 16200 |
| 2008 | 17900 |
As the external software described by the port often is under continued development, the amount of work required to maintain the ports is already large, and increasing. This has led to the ports part of the FreeBSD project gaining a more empowered structure, and is more and more becoming a sub-project of the FreeBSD project.
Ports has its own core team with the Ports Manager as its leader, and this team can appoint committers without FreeBSD Core's approval. Unlike in the FreeBSD Project, where a lot of maintenance frequently is rewarded with a commit bit, the ports sub-project contains many active maintainers that are not committers.
Unlike the main project, the ports tree is not branched. Every release of FreeBSD follows the current ports collection and has thus available updated information on where to find programs and how to build them. This, however, means that a port that makes dependencies on the system may need to have variations depending on what version of FreeBSD it runs on.
With an unbranched ports repository it is not possible to guarantee that any port will run on anything other than -CURRENT and -STABLE, in particular older, minor releases. There is neither the infrastructure nor volunteer time needed to guarantee this.
For efficiency of communication, teams depending on Ports, such as the release engineering team, have their own ports liaisons.
8.2. The FreeBSD Documentation Project
The FreeBSD Documentation project was started January 1995. From the initial group of a project leader, four team leaders and 16 members, they are now a total of 44 committers. The documentation mailing list has just under 300 members, indicating that there is quite a large community around it.
The goal of the Documentation project is to provide good and useful documentation of the FreeBSD project, thus making it easier for new users to get familiar with the system and detailing advanced features for the users.
The main tasks in the Documentation project are to work on current projects in the "FreeBSD Documentation Set", and translate the documentation to other languages.
Like the FreeBSD Project, documentation is split in the same branches. This is done so that there is always an updated version of the documentation for each version. Only documentation errors are corrected in the security branches.
Like the ports sub-project, the Documentation project can appoint documentation committers without FreeBSD Core's approval. [FreeBSD, 2003B].
The Documentation project has a primer. This is used both to introduce new project members to the standard tools and syntaxes and to act as a reference when working on the project.
---
---